Welcome to
Xiunus
A pseudo-science-fiction speculative biology art roleplaying game.
SLOW YOUR DESCENT
You have approached the protected space of the planet Xiunus, under the control of the D̴̢͝ḙ̶̐p̴͑ͅa̶̯͝ȓ̷̞t̶̟̏m̵̛͍ë̸̦́n̷̟̍t̴͎̉ of Protected Inhabited Planets. If you've come in response to our signal beacon - welcome! If not, let us introduce ourselves.
The planet before you is Xiunus - a new land, ripe with possibilities. If you are in need of shelter or a hideaway, feel free to descend to our headquarters on the surface and sign up for your very own colony, where you can live in peace and contribute to the study of the scientific marvels of our planet.
Xiunus is a CS ARPG, or a Closed Species Art Roleplaying Game.
This means that in order to play the game, you'll need to obtain an official colonist (character) on the Xiunus website. These are specifically from several species of Xunari unique to this website and every new member will receive an item upon joining that will give them a randomly generated "geno" or undesigned tsabhua. These have their own genetic codes and stats, like popular tabletop roleplaying games and oldschool adventure games.
Once you have your first colonist, you can start writing or drawing them exploring the world of Xiunus. You can have them go searching for fruits and usable plants or send the older ones out into the caves to search for precious stones and gems. Every piece you make earns you Research Points, which can be used in our research trees to unlock different parts of the game, such as breeding or convincing Natives to join your colony.
Xiunus is an alien planet "purchased" by a corporation known as the Department of Protected Inhabited Planets. They are a shady group but thankfully pretty harmless, at least so far. They grant you (the user) a colony with one colonist of a species called the Tsabhua, an intelligent hexaped that generally live in nomadic tribes.
Why don't you join us? You'll love it here.
Trust ̷̯́u̵̼͍͗s̵̳̪̑.̵̜̯͝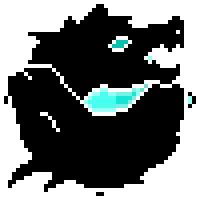 The colonies may be split. Which side are you on?
DPIP ALARMED
THERE IS NOTHING TO WORRY ABOUT.
Find NEW FRIENDS AT THE LOCAL DOCKS!
The Department of Protected Inhabitants has set out an alert on all active telepads and comm networks. This is normal, they tend to send out odd little reminders and slightly suspicious messages from time to time... but somehow this feels different. There are many more drones spiraling about, scanning for who knows what. You've had at least three different operatives skulking around the outskirts of your colony.
It almost seems like they're looking for something and have no idea where it might be.
You have two choices.
You can either respect the wishes of the DPIP and ignore the strange messages. If you find any, you may bring them in (via add-on) and receive a Xen or RP reward from DPIP For your agreement.
Or you can rebel from the orders of the DPIP and go out in search of these strange messages. Each and every one has a clue that you can later depict your colonists investigating. What might you find in these strange locations?
These follow all the same art and literature rules as Foraging. Any colonists can take part in this prompt.
To participate further than above, you must join a faction to display your decision.
Stage Two
RESPECT

If you find any Suspicious Reports, depict your colonists or researchers offering them to DPIP agents to earn a Xen or RP reward! Additionally, visit and explore the docks to expand DPIP's understanding of the planet of Xiunus.


Respect DPIP.
You will find mini-prompts and themes that you may include in every prompt for this event in the #clues channel of the server for a bonus of 10 RP each after other bonuses, max of 5 included clues - for these, please state what the clue was.
Latest Update: Stage Two 3mos and 1w ago